Lable: Putumayo World Music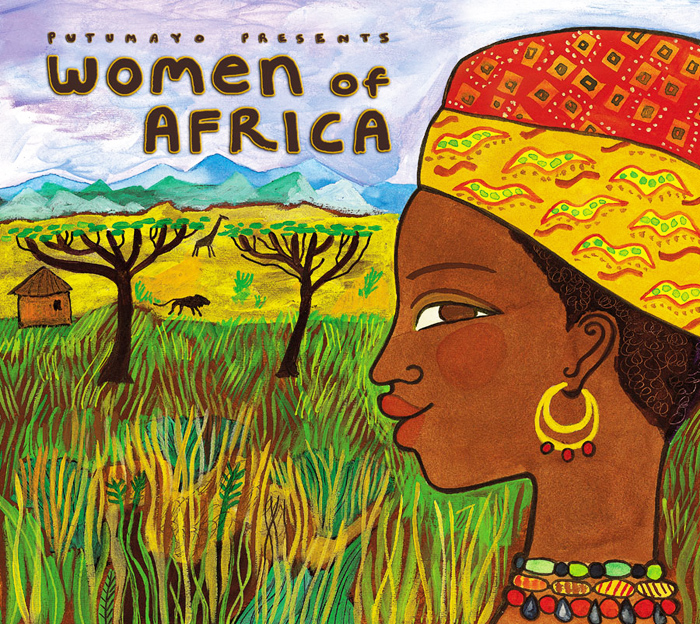 Треклист:
Le Tshephile Mang (South Africa) – Judith Sephuma *****
Bahia (Benin) – Angelique Kidjo
Mi Nada Um Ca Tem (Cape Verde) – Maria De Barros
Mayihlome (South Africa) – Sibongile Khumalo
Retany (Radio Edit) (Madagascar) – Tarika
To Ndje (Cameroon) – Kaissa *****
Mfan' Omncane (Zimbabwe/South Africa) – Dorothy Masuka
Hima (Comoros) – Nawal
Abiani (Ivory Coast) – Dobet Gnahore
Raoui (Algeria) – Souad Massi
Sina Mali, Sina Deni (Free) (Burundi) – Khadja Nin
Vimba (South Africa) – Women Of Mambazo *****
Women have always played an essential role in the preservation of African culture. From lullabies sung to sleepy children to chants of celebration, women are important bearers of tradition. Unlike some areas in the world where females are discouraged from taking part in public musical performance, in sub-Saharan Africa, music is an essential social activity for all members of the community.
While many musical instruments are traditionally played exclusively by men, women often provide the voice of Africa's music. This legacy carries over from traditional to contemporary music, and many of today's most popular singers in Africa are women.
Women of Africa features Putumayo's favorite songs by women from Algeria to Zimbabwe. Ranging from internationally revered artists like Angèlique Kidjo (Benin), Tarika (Madagascar), Women of Mambazo (South Africa), Khadja Nin (Burundi) and Dorothy Masuka (Zimbabwe), to rising stars such as Judith Sephuma (South Africa), Souad Massi (Algeria), and Sibongile Khumalo (South Africa), to new discoveries Nawal (Comoros), Maria de Barros (Cape Verde), Kaïssa (Cameroon), and Dobet Gnahoré (Ivory Coast), the artists on Women of Africa represent a wide spectrum of today's African music scene.